"We believe that every end is a new beginning. And we're so honored to support you on your journey."



- ELLE HUERTA, CEO & FOUNDER OF MEND
The Science Behind Mend
Whether you just went through a breakup or you find yourself stumbling through dating in the modern age, our classes provide the research-based insights, advice, and activities that turn breakups into breakthroughs.

Breakups are like withdrawal.

Romantic love and cocaine addiction are both associated with the same part of the brain, which explains why people can feel obsessive during a relationship and after it ends. We help you manage the feeling of withdrawal that you feel after a breakup.

Social media makes breakups harder.

Seeing your ex digitally is like seeing them in person, and it can set you back. We encourage a social media detox and provide tools and strategies for managing the digital part of your breakup.

Heartbreak and a broken bone, one and the same.

When you go through a breakup, it activates the same part of the brain associated with physical pain. We provide alternative ways to alleviate the pain you're feeling after a breakup, and our trainings normalize the pain you're going through.

Rituals provide relief.

Rituals help alleviate grief, especially when they're reflected on afterwards. We encourage rituals and have guided rituals built into our trainings to help you mend.
Sources: Physiology.org | TandFOnline.com | Scientific American
What Menders Say
9 out of 10 Mend users would recommend Mend to a friend.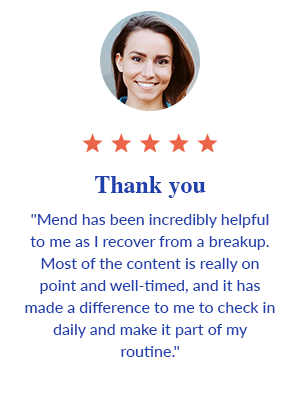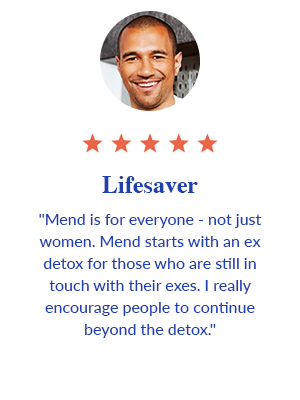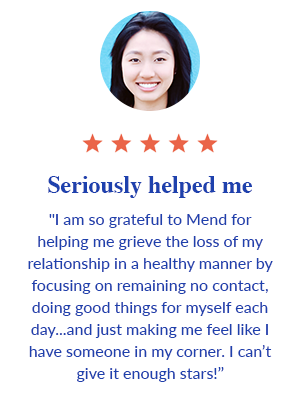 "Love is at the root of everything, all learning, all relationships, love or the lack of it."

- FRED ROGERS AKA MR. ROGERS
About Mend
Mend is a self care company that helps people through heartbreak with their award-winning app, podcasts, website, and community. The Mend app has helped people in over 195 countries and is available in both English and Spanish on iOS. Team Mend is based in Los Angeles, CA. Follow Mend on letsmend.com or at @letsmend.